Sources: Steve Rubel & San Jose Mercury News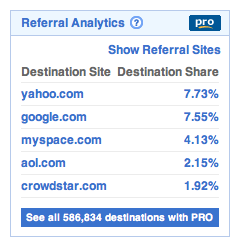 We're at the beginning of a major shift in how we find, consume and interact with information. If the 2000s was the Google decade, then the 2010s will be the Facebook decade. Already, you can see the writing on the wall – pun intended. Look at the data.
According to Web measurement firm Compete Inc., Facebook has passed search-engine giant Google to become the top source for traffic to major portals like Yahoo and MSN, and is among the leaders for other types of sites.
This trend is shifting the way Web site operators approach online marketing, even as Google takes steps to move into the social-media world.
Some experts say social media could become the Internet's next search engine."
Facebook beats Google in weekly traffic
Facebook, also for the first time, had more traffic than Google on a weekly basis in the United States.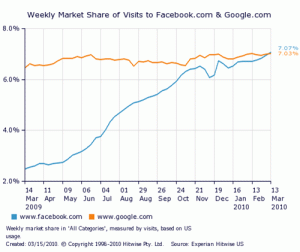 The margin between the two sites was thin. For the week ending March 13, visits to Facebook.com accounted for 7.07 percent of all Internet traffic in the United States, according to Experian Hitwise, a company that measures online traffic. Visits to search engine Google made up 7.03 percent.
Facebook, which declined to comment on the Hitwise report, added about 100 million users between September and February, to reach a total of more than 400 million active users.
The site has "been on a steady march for a while, on their way to becoming the top site," said Hitwise spokesman Matt Tatham.
Jeremiah Owyang, an analyst at the Altimeter Group in San Mateo and author of the blog Web Strategy, said the shift in traffic is important.
"The key trend to think about here is people are spending more time talking to and interacting with each other. This does impact Google because people may be making decisions by listening and talking to each other rather than using traditional search avenues."
Facebook also had more U.S. traffic than Google on Christmas Eve and Christmas Day 2009, and on New Year's Day this year, Hitwise said. Google took a back seat to Facebook traffic on some recent weekend days as well, Tatham said, including March 6-7.
Hitwise's measurements do not take into account visits to Google-related sites such as Google Maps and YouTube, Tatham said, but measures visits to the Facebook.com and Google.com domains. Google declined to comment on the Hitwise report.
A year ago, for the week ending March 14, 2009, visits to Facebook accounted for 2.48 percent of U.S. online traffic, and visits to Google made up 6.46 percent, according to Hitwise.
As in the classic Bob Dylan song, "The times, they are a changing."
BJ Kharrazi | Editor