Source: Don Reisinger | LA Times & Google Blog
Google has renamed its Local Business Center to Google Places and added a few new features, the company announced Tuesday.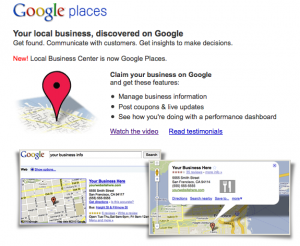 Don Reisinger in LA Times Blog writes: "Google Places is designed for business owners. The tool allows entrepreneurs to create a listing for their business containing their company's address, a brief description of the markets in which it operates, their company's website, and more. The basic idea behind Place pages is to help Web searchers find local companies and for those local companies to attract customers through Google Search."
Google Blog: "We launched Place Pages last September for more than 50 million places around the world to help people make more informed decisions about where to go, from restaurants and hotels to dry cleaners and bike shops, as well as non-business places like museums, schools and parks. Four million businesses have already claimed their Place Page on Google through the Local Business Center, which enables them to verify and supplement their business information to include hours of operation, photos, videos, coupons, product offerings and more. It also lets them communicate with customers and get insights that help them make smart business decisions."
But simply changing the name of a service won't do much to attract more users. That's why Google has also improved Place Pages to make it a bit more attractive to business owners.
According to the company, users can now add service areas to their listings to inform customers on the geographic area the firm covers.
Business owners can also enroll in a new advertising program for $25 per month. Upon doing so, their listings in Google's search results will be highlighted to make them stand out from the others. Currently, the feature is available to companies in Austin, Texas; Atlanta; Houston; San Jose; and Washington. Google hopes to roll out the advertising feature to companies in San Francisco, San Diego and a few others in the coming weeks.
Although Google didn't elaborate, the company said that the improvements it has made to Places is the first step in its plan to "make Google more local." Considering one in five searches relate to location, according to Google, that might be a good idea.
BJ Kharrazi | Editor