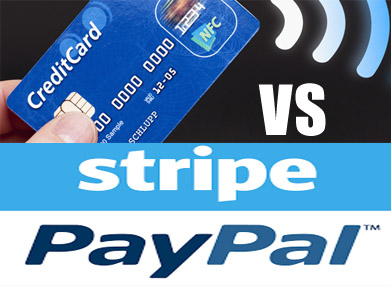 Today we'll discuss 5 popular ways to accept credit card payments on your ibsite.
The options i share with you includes payment page links, payment page builders, e-commerce solutions and custom solutions alike.
So if you're brand new to putting payments on your ibsite, or you've never done this before, or you've already done it but you're not happy with the solution you currently have, i're gong to talk to you about all of the options that are available to you.
There's obviously more than a handful of ways to make this happen so the solution that's right for you largely depends on the resources that are available to you to make the solution come to life.
Do I Need A Payment Page On My Website?
So one of the biggest questions that we're asked is very simply: how how does it work? Do i have to put payment pages directly on my website or can they be hosted by another company? or is there a Pay Now button available and how do you make all these solutions tie together?
The short answer: no, you don't need a payment page that is hosted on your site.
Now for the long answers-
There's so many options out there, so again, we're going to go over the five broad categories and then we're going to give you a bunch of resources in this post, including three big questions to help you determine which solutions actually best for you. in the form of a checklist at the end of the post.
First, we have the all-in-one processor hosted payment page. So all-in-one processor is a company like Stripe or PayPal and these are also known as payment service providers. These are definitely different than a true merchant account provider in the sense that this option is an off-the-shelf processing solution available to you, like Paypal.
With this merchant payment solution, you license their technology and use their platform. This plafform's ready-made options give you the ability to create an account for free, like PayPal and Stripe- which are both free to use.
The ease of deploying this payment solution is a big benefit to beginners and this solution gives you an intsnat ability to log into your account dashboard and create a Pay Now button or a Buy With card button.
Depending on which tool you're using or which service you're using, you can take that code and place it on your website through an HTML editor whether using Wix or Squarespace, for instance.
There is the extremely popular WordPress platform where you may also easily place that code directly into your WordPress editor. Once placing this simple code into your website html or WordPress page editor, a Buy Now button appears automatically.
So a setup like this is rather simple to do. You create the accounts like these for free, starting out, and then you can log in directly to the dashboard and just start creating your Pay Now button so that's definitely the pro to this type of option .
Downside Of Off-The-Shelf Free Payment Solutions
Now for one of the negatives: if you create a Pay Now button with one of these solutions or one of these providers, you are tied to using their merchant account solution with that payment button.
So , for instance, if you create the Buy Now or Pay Now button with Stripe or PayPal, you're also automatically accepting the payment processing costs for these platforms which may be more more expensive in the long run.
Payment processing cost alone can make these easy solutions a problem if you plan on doing significant business online as a lot of other more complex merchant account providers can be much cheaper, sometimes 50 basis points to a full percentage point less than what Stripe or PayPal might charge.
So the cost for this option is really contingent on the amount of time it takes you to research the options, you ability to deploy more technical payment code and what knowledge that it's going to take to put those buttons into place and then work it into your own site.
True Merchant Account
Another option is a true merchant account provider that is deployed on a hosted payment page on your site.
True merchant account providers are companies like us, 1st National Processing, Card Connect, Chase Paymentech and First Data. These pro options are all different than the Stripe of Paypal payment service providers.
With these more robust options, your hosted payment page is tied to a payment gateway and the best way to understand what a true merchant account gateway and hosted payment page does is to imagine the Gateway is a software tool that encrypts data between your store, your online store, or your payment page and the merchant account processing company.
You don't need to store cardholder data
So when a customer goes to your website and makes a payment, the data is first sent through the Gateway, which is appropriately named by the way over to the processing company and then sent back. This is an essential piece and a vital part of the transaction flow of an online credit card transaction. In this scenario, one of the nice things about the hosted payment page is that it's completely managed for you by the gateway service so that just means that you don't have to worry about storing cardholder data because it's all all hosted and managed and taken care of by the Gateway company that's part of the hosted payment page service.
Hosted payment pages are set up with companies like 1st National Processing or authorized net, and again, all the security is taken care of and handled for you with this solution. So below is a sample of a hosted payment page built into a wordpress website editor that also includes examples of a Pay Now button.
The way it works is when your customer clicks on this button, it takes them away from your domain over to the gateway hosted payment page again which is on a different URL where the customer can enter their information and the security liability with this option is managed by the payment gateway so you don't need to worry about any of the SSL Certificate issues. When the customer clicks the Pay Now button, they in effect leave your website and they go over to that secure environment which is hosted by the Gateway so there's typically not an additional cost for the hosted payment page, as it just comes as part of the service with the Gateway.
So again, if you have an account with 1st National, this service is going to come with it and gateways typically cost between five and thirty five dollars a month, plus about five to fifteen cents per transaction when the Gateway is used.
Custom API Integration Option
Additionally, those seeking to payment processing can utilize a custom APi integration with custom payment pages or shopping cart solutions.
This is easily the most expensive option because it requires custom programmers and developers who typically charge betien 50 and 150 dollars per hour so it doesn't really take too many feature requests to get that bill past the thousand or multiple thousand dollar mark in order to get your custom payment page or shopping cart solution that you want.
The custom solution has one big really big benefit and that's that you get to make it however you want it to look. So this solution can follow the form and function of your website and when you build it with an SSL certificate, which you definitely will be required to do, you want it to look like the rest of your branded website.
The customer never leaves your website with this solution and they stay within the experience of your shopping cart or your payment pages.
As we mentioned, with this more complex solution, you'll need an ssl certificate on your website that can be provided by most large hosting companies such as Godaddy or Hostgator.
Yet another easy solution would be Amazon's buy now button if you happen to be an Amazon seller. here this is the experience of a shopping cart solution where your customer can go onto your website, hit the Amazon Buy Now button and get their payment processed through your Amazon store. This is also a quick off-the-shelf solution if you prefer to do business through your Amazon account.