1st National Processing is proud to announce our recent inclusion of the ShopKeep iPad Cash Register and POS.  ShopKeep Register brings full point-of-sale functionality to iPad, including wirelessly popping the cash drawer as well as printing receipts. Small business owners now have the freedom to accept payment as well as check sales and inventory directly from their iPad.
Run your retail store with our iPad POS. Ring up customers, print paper receipts, pop the cash drawer, take credit cards, manage inventory, update pricing and have real time access to sales numbers through the web.

1st National's ShopKeep iPad Register solution includes the secure, encrypted iDynamo swiper that attaches to the iPad POS.
Using the iDynamo and ShopKeep Register App, business owners can then swipe credit cards at the point of sale, taking full advantage of integrated credit card processing. The app then syncs directly with a user's Intuit QuickBooks account at ShopKeep.com, updating sales and inventory numbers in real-time.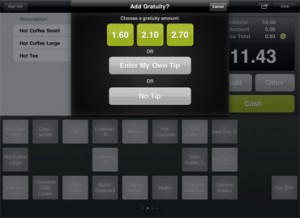 The idea for the company grew out of the limitations found with other point of sale solutions. The ShopKeep.com solution was designed for coffee shops, quick serve restaurants, bakeries, ice cream shops and most other small retailers.
The ShopKeep iPad POS provides any retailer the ability to manage their store from the web where they can run reports, create and manage inventory, track customers and much more. Utilizing patent pending technology, ShopKeep allows the cashier to ring up sales and keep data even if the Internet is down. Whether using a Mac, PC, or iPad ShopKeep provides retailers a reliable cash register and POS system.