Source: Brandon Hill | Daily Tech
It seems like the less they are worth, the better they look!  – BJK
——————————-
New U.S. $100 Bill Unveiled
by Brandon Hill | Daily Tech Blog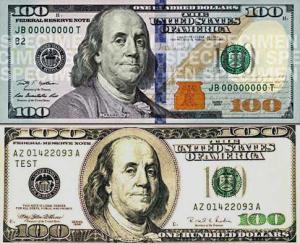 Ahhh, the smell of money. Although many people like to carry around plastic in their wallets instead of paper bills, there is still a need to thwart counterfeiters who always try to outsmart the latest security improvements included in U.S. currency.
Today, high ranking members fro
m the Board of Governors of the Federal Reserve System, the U.S. Department of the Treasury, and the United States Secret Service pulled the wraps off the newest design for the $100 bill, the highest currently available denomination available for U.S. currency.
According to U.S. Department of the Treasury – the most circulated and counterfeited of all U.S. bills — the total worldwide circulation of the $100 bill is $890 billion according to the Wall Street Journal. In addition, roughly two-thirds of all $100 bills in circulation can be found overseas.
The new $100 bill features new security enhancements to cut down on counterfeiting including a 3D Security Ribbon that has images of 100s and bells which change position as you move the bill and a "Bell in the Inkwell" image that changes colors from green to copper depending on how the bill is oriented.
"The new security features announced today come after more than a decade of research and development to protect our currency from counterfeiting. To ensure a seamless introduction of the new $100 note into the financial system, we will conduct a global public education program to ensure that users of U.S. currency are aware of the new security features," said Treasurer of the United States Rosie Rios.
"The $100 is the highest value denomination that we issue, and it circulates broadly around the world," said Michael Lambert, the Assistant Director for Cash at the Federal Reserve Board. "Therefore, we took the necessary time to develop advanced security features that are easy for the public to use in everyday transactions, but difficult for counterfeiters to replicate."
The new $100 bill will be ushered into service on February 10, 2011.